If you're after a simple shed that does the trick, then Galvo Sheds are worth considering.
These sheds aren't made to order, which means they're a cost-effective and readily available solution. The limited range of colours and sizes also helps with keeping your costs down!
Galvo Sheds have been made in NZ for decades, and are famous for their affordability and resilience. When you buy one, you'll be getting Kiwi ingenuity at the best bang for buck.
Constructing and assembling Galvo Sheds involves drilling and riveting. All you need is a power-drill, riveter, and drill bits, and a hammer if you buy the floor kit.
Even though they require a little more assembly than other brands, step by step instructions and a range of assembly videos will keep you on track. But if you don't want to get your hands dirty, then one of our expert assemblers can do it for a fixed fee (assuming clear and level ground).
Galvo Sheds are available in 5 different colours and sizes and come in two grades of steel; standard and premium.
The premium grade is made from thicker and stronger steel sheets, and gives you extra protection against weather hazards. Standard grades feature a 15-year warranty, where premium grades feature 18.
Since these sheds are popular, they do sell out occasionally, so be sure to get in quick. If you need one urgenlty get in touch to check what we have in stock.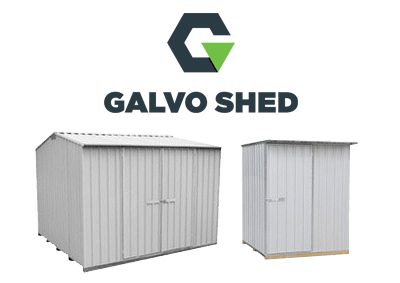 ◾ Great Value
◾ 5 sizes & 5 colour options
◾ Usually in stock
◾ Trusted manufacturer since 1974
◾ 15-18 Year Warranty

Sheds from $379 incl GST
Floors from $129 incl GST