Galvo sheds kitsets are a great value for money stock-standard shed line. Galvo garden sheds are ideal for people looking for a simple and affordable solution to their shed needs. Galvo sheds are made in a limited range of sizes and colours and because they are not made-to-order, are readily available and in stock at Gubba. As one of our most popular sheds ranges we do sell out from time to time though!
Galvo sheds require a little more assembly than other brands – the doors are supplied in pieces, not pre-made like the Garden Master sheds.
Like the rest of our shed ranges wooden floor kitsets are optional with the Galvo shed, and bolt down kits if you prefer to make a concrete pad for the shed.
Made with the same "panel and channel" construction as a Garden Master shed these are a simple construction and assembly is drilling and riveting. You need a power-drill, riveter, and drill bits to put this together.
With step by step instructions and a DVD of assembly videos, the Galvo sheds are straightforward to put together. If you prefer not to tackle the assembly yourself, for a small fee, our expert assemblers can manage the whole installation for you.
Galvo sheds are available in 5 sizes and 5 colours, and two grades of steel. Standard grade carries a 15 year warranty and Premium an 18 year warranty. The Premium grade features thicker, stronger steel sheets and is recommended for high wind or coastal environments. The channels/trim are all plain metal Alu-Zinc finish to help keep costs down.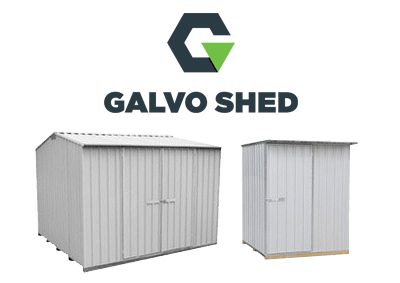 ◾ Great Value
◾ 5 sizes & 5 colour options
◾ Usually in stock
◾ Trusted manufacturer since 1974
◾ 15-18 Year Warranty

Sheds from $229 incl GST
Floors from $109 incl GST