As the name suggests, Lifetime Sheds are built to last a lifetime. Hailing from the rocky lands of Utah, Lifetime Sheds are world famous for their durability, strength, and quality. Not only will you get a world trusted brand, but you'll also get innovation at its finest.
Innovation is at the core of Lifetime's philosophy, which means your shed is made from the latest technology.
What makes them so special is that they're made of plastic. But it's not ordinary plastic, it's high-density polyethylene plastic, which provides superior strength and looks.
These plastic sheds can withstand all NZ weather conditions and will enhance your gardens attractiveness.
Best of all, no painting is required – which means minimal maintenance. To make the most of your plastic storage box, you can also buy optional shed accessories.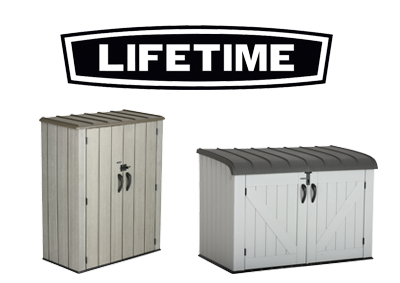 ◾ 2 orientations to choose from
◾ Rigid dual-wall high-density polyethylene (HDPE)
◾ Low maintenance
◾ UV protected panels
◾ Customisable
◾ 5 Year Warranty

Vertical Shed $699 incl GST
Horizontal Shed $999 incl GST
No products were found matching your selection.