Taking design cues from the rustic beauty of backcountry living, the Cedar Classic sheds are manufactured using unique "knotty grade" cedar planking and transformed into stunning eco-friendly storage masterpieces.
Cedar Timber Sheds are made from authentic Western Red Cedar and are on a class of their own. If you only want the best and desire a traditional look, then Cedar Timber Sheds are your answer.
The beauty of cedar is its natural longevity, which means it doesn't need treatment. It also means it's extremely resilient to harsh weather. Another pleasantry is the tantalizing aroma, which you can only get from cedar.
While they come in 12 different sizes, Cedar Timber Sheds are highly customizable. You can construct your dream shed with the best materials, so it can serve your needs. A timber floor kitset is also available, should you want greater stability.
The sheds use a modular pre-clad panel construction system, which makes the assembly straightforward. But if you don't want to get your hands dirty, then one of our expert assemblers can do it for a small fee.
Watch our quick video on the Cedar Range below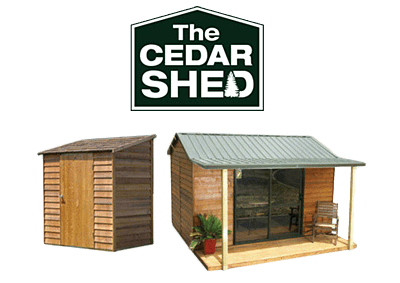 ◾ Cedar classic range
◾ Knotty grade weatherboards
◾ Fully framed, building paper lining
◾ Great head height
◾ Modular panel construction
◾ Customisable
◾ 15 Year Warranty
Sheds from $2499 incl GST
Floors from $185 incl GST
Watch our quick video on the Cedar Range below