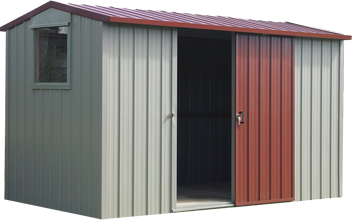 Timber framed steel sheds
The Duratuf range of sheds are constructed around a timber frame, with heavy 0.4 gauge steel cladding nailed to the frame the timber frame inside has some practical advantages, allowing you to put in nails to hang things on or build in extra storage shelves etc.
Duratuf Fortress Sheds have hinged doors with sloped Lean-to roofs,
and are made with press bent panels that wrap around the corner of the sheds,
eliminating sharp edges and making for simple construction.
Duratuf Kiwi Sheds come with sliding doors as standard (or hinged doors on request) in a larger range of sizes including "Lean-to" and gable roofs. The Kiwi sheds use corner flashings on to cover the corners for a clean look and the sliding doors mean they do not need as much room to open if you have a tight space.