Combine the benefits of timber and steel when you buy a timber framed steel shed. Create tool boards and maximise your storage space, while keeping your shed dry with improved water run-off systems.
If you want extra strength and practicality, then browse our catalogue below!
Smart Store Sheds feature a semi-timber frame construction, with timber at the top and bottom. The timber framing is a key feature to these sheds, and improves strength and practicality with no requirement for a channel at the bottom. This is better for water run-off and less maintenance. Screw hooks into the timber frame for tool storage, or use it as a base to fully frame and line your shed with pegboard or ply, to create tool boards and maximise the storage space
The Duratuf range of sheds are constructed around a timber frame, with heavy 0.4 gauge steel cladding nailed to the frame the timber frame inside has some practical advantages, allowing you to put in nails to hang things on or build in extra storage shelves etc.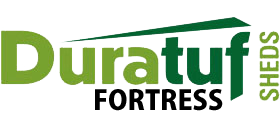 Duratuf Fortress Sheds have hinged doors with sloped Lean-to roofs, and are made with press bent panels that wrap around the corner of the sheds, eliminating sharp edges and making for simple construction.
Duratuf Kiwi Sheds come with sliding doors as standard (or hinged doors on request) in a larger range of sizes including "Lean-to" and gable roofs. The Kiwi sheds use corner flashings on to cover the corners for a clean look and the sliding doors mean they do not need as much room to open if you have a tight space.
Duratuf Lifestyle Sheds are designed to meet the needs of a range of Kiwi lifestyles, the Duratuf Lifestyle Range is the ultimate in stylish, secure storage. With models that suit high density suburban living to sprawling country estates you're sure to find one that fits your requirements.