Duratuf sheds are New Zealand's premium timber-framed, steel-clad sheds. Duratuf sheds are ideal for people looking for a strong, practical and sturdy shed with good looks. The Duratuf kitset sheds range includes everything from compact lockers to larger permitted workshops
Duratuf sheds are made to order and are highly configurable to suit your requirements. You can customise door locations, add height, adjust the size to fit your space (167mm increments), add extra security options, clearlight panels and windows (windows only in the Duratuf Kiwi line).
Duratuf has three ranges in the brand.
The Duratuf Fortress sheds are mono-pitch roofs with hinged doors and they also feature pre-bent wrap-around corner profiles.
Timber floors are a popular option with Duratuf sheds, there are also bolt down kits available to fit the shed to a concrete pad.
The Duratuf Kiwi shed line includes both mono-pitch and gable roofs, boxed corner flashings and sliding doors as standard. The Duratuf Kiwi range also includes larger sheds with press-bent gable roofs (meaning no ridge flashing). These are popular as a premium large shed, ideal for maximising your shed size while staying under the consented 10m² size.
Our Duratuf Lifestyle range is one of the newest Duratuf ranges available and is designed to meet a stylish and secure shed for the suburban lifestyle. With the Metro, Estate and Rural options available and all options featuring an easy to use roller door, it fits in perfectly to any required space or lifestyle.
Assembly of a Duratuf shed has two stages – building the framing from the pre-cut timber pack, then cladding and adding doors and flashings. The process is straightforward and the instructions clear and simple to follow. The framing makes the construction more traditional, and it all makes sense once you have erected the frame. If you prefer not to tackle the assembly yourself, for a small fee, our expert assemblers can manage the whole installation for you.
The full timber frame provides strength and versatility. Screw hooks into the framing, line the shed with peg-board or plywood for tool boards and work benches, hang bikes on the wall, or build in your own shelving. This practicality makes Duratuf sheds the perfect shed choice for a small workshop, garden tool shed, or storage area.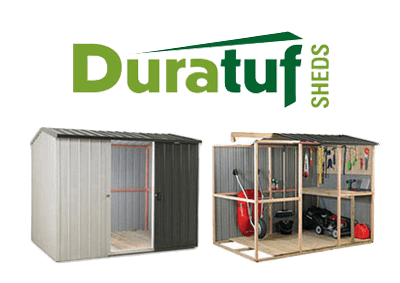 Duratuf Fortress
◾ Full timber frame
◾ Hinged doors
◾ Wrap around corners
◾ Customisable
◾ 30 Year Cladding Warranty

Sheds from $585 incl GST
Floors from $124 incl GST

Duratuf Kiwi
◾ Full timber frame
◾ Sliding doors as standard, hinged doors optional
◾ Box corner Flashings
◾ Customisable
◾ 30 Year Cladding Warranty

Sheds from $849 incl GST
Floors from $149 incl GST