Duratuf Sheds are premium, steel cladded sheds with full timber framing; made in the heartlands of the mighty Waikato. As a premium New Zealand shed, you'll be getting a resilient and practical solution that looks great!
Duratuf sheds are fully customizable and make awesome workshops, garden sheds, and compact lockers, among other options! The timber frame provides strength and versatility above all. If you want, you can easily add windows, adjust the size, change door locations or ramp up security. Being made to order gives you increased flexibility.
At Gubba, we sell three ranges in the Duratuf brand:
• Duratuf Lifestyle
• Duratuf Kiwi
• Duratuf Fortress
Duratuf Lifestyle sheds are a new range that's specifically designed around a quality NZ made roller door. With sizes for both suburban and rural dwellers. These stylish and secure sheds will give you plenty of room with wide access.
The Duratuf Kiwi range is ideal for those that want a premium timber framed, steel clad shed, with classic looks. They're made from thick 0.40mm gauge steel and have lots of extra features including upgraded "Everglide" sliding doors, corner flashings and gutters built in.
Duratuf Fortress sheds feature mono-pitched roofs, hinged doors and an advanced water run-off system to give you ultimate protection against the weather. Like the Kiwi range, they're made from 0.40mm gauge steel.
Assembly comes in two stages: building the framing from the pre-cut timber pack and adding the cladding and doors. But with easy to follow instructions, it's not a hassle. If you don't want to get your hands dirty, then one of our expert assemblers can do it for a fixed fee (assuming clear and level ground).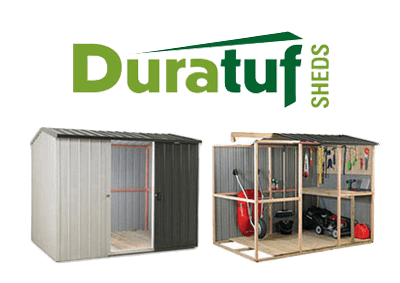 Duratuf Fortress
◾ Full timber frame
◾ Hinged doors
◾ Bent wrap around corners
◾ Customisable
◾ 30 Year Cladding Warranty

Sheds from $645 incl GST
Floors from $124 incl GST

Duratuf Kiwi
◾ Full timber frame
◾ Sliding doors as standard, hinged doors optional
◾ Box corner Flashings
◾ Customisable
◾ Optional Windows
◾ 30 Year Cladding Warranty

Sheds from $897 incl GST
Floors from $129 incl GST