Keter outdoor garden sheds are an innovative and very unique type of shed product in the New Zealand market. While still relatively new in NZ, the Keter brand is well-known globally for its exceptional solutions for a range of home and garden outdoor storage needs.
The New Zealand climate is harsh – corrosive salt air, heavy rainfall and blistering sun can be problematic for many materials, requiring regular care and maintenance to keep them in top condition. The Keter shed range is growing in popularity due to its resistance to these conditions, making it the ideal shed solution for kiwi backyards.
So what makes Keter sheds special? Plastic. Yes plastic. But not just any old plastic, a special polypropylene resin-based Wood Plastic Composite (WPC). This incredible material is strong yet light-weight, maintenance-free and can even be painted. With cutting-edge engineering, Keter sheds combine durability and weather-resistance with attractive design, functionality and ease of assembly, giving you a premium quality shed that not only looks great but will keep your contents clean and dry. 
Available in a variety of sizes and designs to suit your space, including larger sheds that are ideal for storing everything from garden tools to bicycles and more compact sheds enabling you to store your tools and accessories while taking up minimal space in your home or garden.
Important! – Because of their unique assembly process, a 100% level and square base is essential for all Keter sheds – we suggest a timber foundation or concrete pad.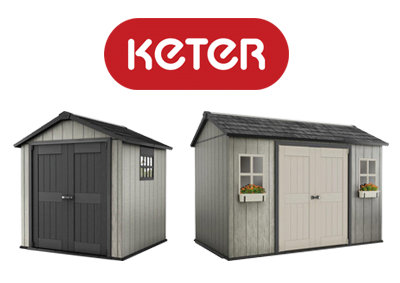 ◾ 3 styles to choose from Newton, Artisan and Oakland
◾ Steel Reinforced
◾ Wood Plastic Composite
◾ Maintenance Free
◾ 10 Year Warranty

From $2489 incl GST