Designed to meet the needs of a range of Kiwi lifestyles, the Duratuf Lifestyle Range is the ultimate in stylish, secure storage. With models that suit high density suburban living to sprawling country estates you're sure to find one that appeals.
Metro Range – Catering for those who live in an apartment, townhouse, or have a small section. Our stylish Metro models provide secure yet accessible storage in even the tightest of spaces.
Estate Range – Whether you've got a suburban section or a few acres on the city fringe, our Estate models give you a bit more room to play with, without taking up a lot of space.
Rural Range – At a shade under 10m2 Rural models require no permit, making them the easy option if you're wanting secure storage on your lifestyle block or farm for your valuable toys, tools and machinery.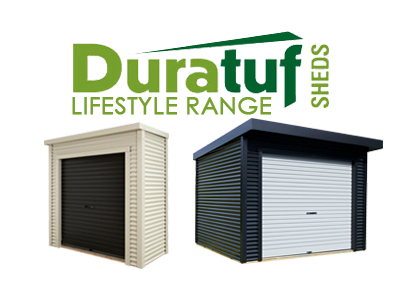 ◾ Secure Roller Door
◾ Solid Construction
◾ Timeless Design
◾ Robust Timber Framing
◾ Extra Thick Hi-Tensile Steel Cladding

Sheds from $2399 incl GST
Floors from $299 incl GST