Daiken Sheds provide a simple, sturdy and elegant solution for your shed requirements. Daiken Sheds combine superior build quality with anti-rust powder coating, which increases longevity. The wheeled sliding doors and tasteful matt finish will ensure a smooth operation that's low key.
The greatest benefit of Daiken is being able to create massive storage space from a small footprint. If you're wanting to store garden tools, golf clubs or fishing equipment, in a small courtyard or deck, you won't go wrong. The integrated, robust flooring will keep tools off the ground give you extra stability and dryness.
Daiken sheds come in 4 different sizes, along with 10 shelf heights and additional shelving (optional extra).
You can customize to suit your requirements and make something to suit your needs.
Assembling is a total breeze, will all screws being the same size.
No more time wasted from swapping and searching! Also, no drilling is required. Daiken sheds come with anchor brackets, which makes them very stable and secure.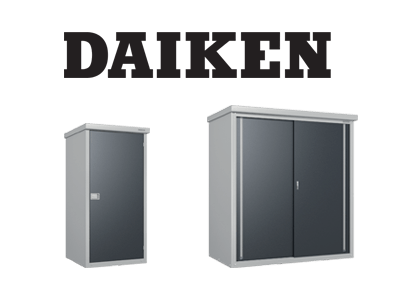 ◾ Elegant
◾ Strong and weatherproof
◾ Compact and versatile
◾ User-friendly
◾ Simple
◾ 10 Year Warranty

Price from $1249 incl GST
No products were found matching your selection.