Duratuf Lifestyle sheds are built with Kiwis in mind and are suitable for a range of different lifestyles.
These premium sheds offer style and security for all types of dwellings, urban or rural. And with quality NZ made roller doors / ranch sliders, you can easily access your items at any time.
Here are the 3 lifestyle ranges available:
• Metro Range – Limited for space and live in a compact area? The Metro Range gives you secure storage in the tightest of places.
• Estate Range – Got some extra room to play with? No problem. The Estate Range is suitable for suburban households with space to spare.
• Rural Range – Secure all your valuable toys, tools, and machinery the easy way with a Rural Range shed. At under 10m², no permit is required.
• Ranch Slider Range – For office, sleepouts or studios.
Watch our quick video on the Duratuf Lifestyle Range below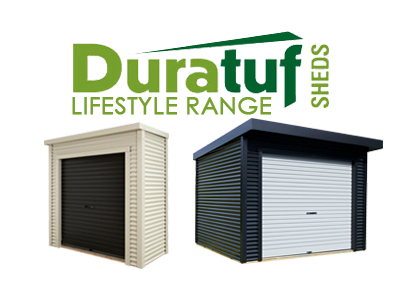 ◾ Roller Door / Ranch Slider
◾ Solid Construction
◾ Timeless Design
◾ Robust Timber Framing
◾ Extra Thick Hi-Tensile Steel Cladding
Sheds from $2999 incl GST
Floors from $349 incl GST
Watch our quick video on the Duratuf Lifestyle Range below