Duratuf Lifestyle sheds are built with Kiwis in mind and are suitable for a range of different lifestyles.
These premium sheds offer style and security for all types of dwellings, urban or rural. And with quality NZ made roller doors, you can easily access your items at any time.
Here are the 3 lifestyle ranges available:
• Metro Range – Limited for space and live in a compact area? The Metro Range gives you secure storage in the tightest of places.
• Estate Range – Got some extra room to play with? No problem. The Estate Range is suitable for suburban households with space to spare.
• Rural Range – Secure all your valuable toys, tools, and machinery the easy way with a Rural Range shed. At under 10m², no permit is required.
Watch our quick video on the Duratuf Lifestyle Range below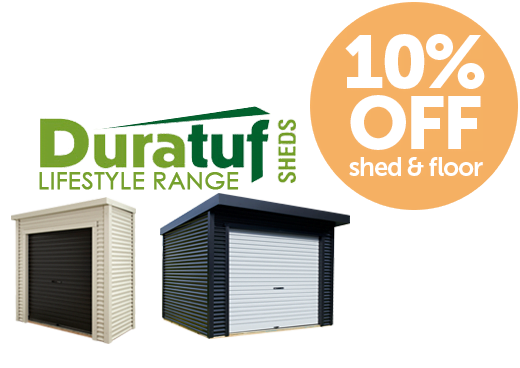 ◾ Secure Roller Door
◾ Solid Construction
◾ Timeless Design
◾ Robust Timber Framing
◾ Extra Thick Hi-Tensile Steel Cladding
Sheds from $2699 incl GST
Floors from $314 incl GST
Watch our quick video on the Duratuf Lifestyle Range below