Pinehaven timber sheds provide a classic shed look in any garden or back yard. Pinehaven garden sheds are perfect for people looking for a traditional-style timber weatherboard shed.
Made using a modular pre-clad panel construction system, Pinehaven sheds are easy to assemble. The panels simply screw together and a lot more of the work has been done for you in the factory, meaning that although these wooden sheds are more substantial, the time to assemble is about the same as a steel shed. Doors are made up and ready to be hung.
Assembly of a Pinehaven shed requires, drilling, screwing, nailing, riveting and sealing some hidden joins with silicone. If you prefer not to tackle the assembly yourself, for a small fee, our expert assemblers can manage the whole installation for you.
All Pinehaven sheds are made to order, meaning you can customise the shed layout to suit your requirements. Whether you need to move or add doors and windows, change sizes to suit the space, or match the roofing colour to your house, it's all possible with a Pinehaven shed.
The pine timber weatherboards on a Pinehaven shed are treated, so all you need to do after assembly is paint or stain the shed to match you house and help protect the timber from the elements.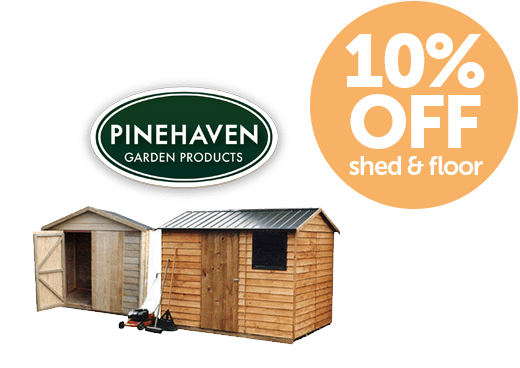 ◾ Great value timber sheds
◾ Pine weatherboards and framing
◾ Modular panel construction
◾ Customisable
◾ 10 Year Warranty

Sheds from $1075 incl GST
Floors from $207 incl GST