A quick timelapse
of the assembly of a Galvo Shed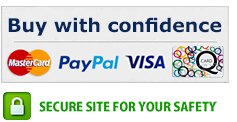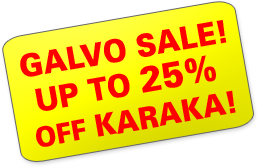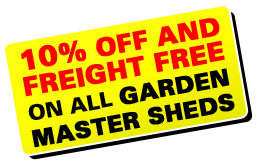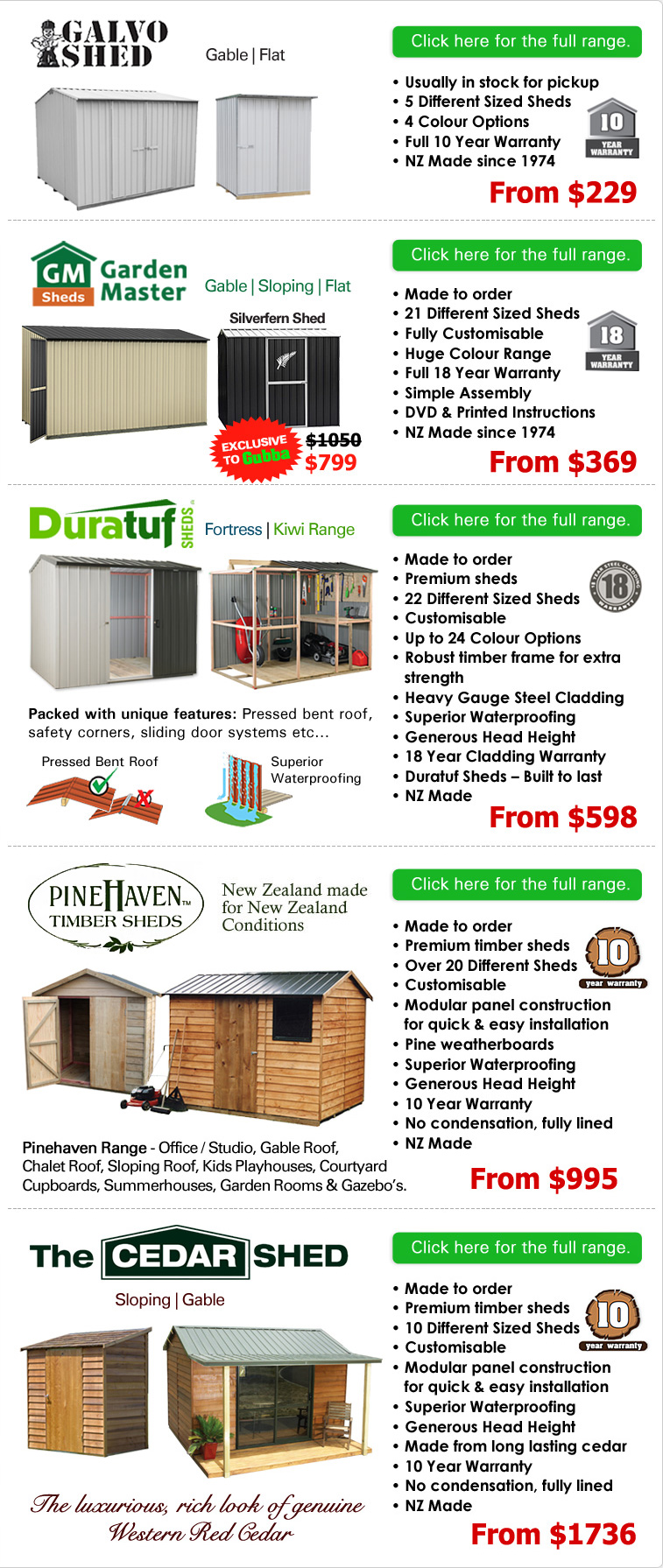 Need a hand?
---
Having trouble finding the
Garden Shed you're after?

Click here and call us!
---
Gubba Garden Shed FAQ'S
---
Shed Assembly Instructions
Gubba Garden Sheds sale NZ Wide – online, over the phone, or from our warehouse in Albany, Auckland.
We sell steel kitset sheds from Galvo, Garden Master, Duratuf, Cedar Timber Sheds, and Ranchwood. From cheap to fully customisable coloured steel garden sheds. Every shed we sell is made in New Zealand.

If you are looking for a Garden or Tool Shed in Auckland, look no further, we have great prices, and nationwide delivery from the factory to your door, for a flat fee. We can deliver a shed New Zealand wide!

Galvo garden and storage sheds have been designed with the cost conscious buyer in mind. Galvo sheds are made from the same high tensile as Garden Master but are not customisable. Galvo sheds are available in a choice of four colours, with great value kitset wooden floors an optional extra. Galvo Sheds are available as flat roof and gable roof. All Galvo garden sheds come with a 10 year warranty, both rivets and screws so you can choose how you assemble it, an instruction sheet, and a DVD with instructional videos for each step of the assembly process (
Galvo assembly videos are available online here
).

Garden Master garden and storage sheds are made to order. These customisable kitset NZ sheds are made from high quality steel, to your requirements. You can change the height, add extra doors or windows, add skylight panels for natural lighting, and choose from a wide range of colours, or even have your shed colour matched to an existing colour scheme if desired (please contact us for more info on colour matching).All Garden Master Sheds come with an 18 year warranty, both rivets and screws so you can choose how to assemble it, instruction sheet, and a DVD with step by step instructional videos (
videos are also shown online here
).Garden Master Sheds are available as flat roof sheds, sloping roof sheds and gable roof sheds.



Duratuf Kiwi Kitset Garden Sheds are Duratuf's premium range of garden sheds. Duratuf Kiwi Garden Sheds incorporate an innovative full timber frame construction method which provides significant strength advantages, greater weatherproofing and superior versatility. The Duratuf Kitset Garden Sheds range is fully customisable, in a wide range of sizes, colours and with an extensive list of optional extras to customise the shed to fit your personal garden shed, storage shed, tool shed or workshop requirements. All Duratuf Garden Sheds are easy to assemble around the internal timber frame. They come with full detailed instructions. We can also organise assembly for you by professional assemblers.

Similar to the flagship Duratuf Kiwi shed, the Fortress is constructed with the innovative Duratuf full timber frame, providing inherent advantages in strength, weatherproofing and superior versatility. Duratuf Fortress Kitset Garden Sheds are fantastic quality steel sheds. Made in NZ from heavy gauge steel, and featuring wrap-around corners & a hinged door, Duratuf Fortress Garden Sheds will last you for years. And come with an the Duratuf Garden Sheds 18 year steel cladding warranty. The Fortress range has 11 different models which are highly customisable, to suit your personal needs for a storage shed, garden shed, tool shed, wood shed etc. With 6 colour options to choose from and many possible colour combinations there is a Fortress shed to suit most needs. No1 in Kitset Sleepouts NZ. All Duratuf Kitset Garden Sheds are easy to assemble, with full, detailed instructions provided. We can also organise a professional assembler to assemble the shed for you.

"The Cedar Shed" Sheds are possibly the best looking timber sheds available. They feature the luxurious, rich look of genuine Western Red Cedar, one of the worlds most durable timbers. These Cedar Sheds have been made in New Zealand since 1987. They are known as the ultimate timber storage buildings. Each timber panel is lined with a heavy duty building paper which creates an extremely dry interior, ideal for important items or documents. Cedar is strong, looks great, smells great, is long lasting and contains no toxic timber treatments! With simple modular construction putting together a Cedar shed couldn't be easier. Cedar sheds are worth considering if you are looking at a premium sheds, timber kit-set sheds, or pine sheds. Please give us a call if you have any questions about any of The Cedar Sheds.