Duratuf Kiwi Timber Framed Garden Sheds
Chad Kim
2018-05-28T00:16:49+12:00
Duratuf Kiwi Kitset Garden Sheds are arguably NZ's best premium range of steel garden sheds.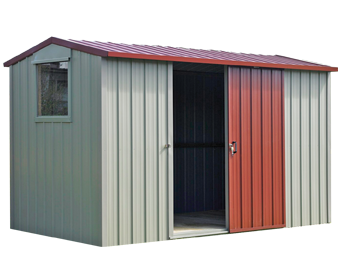 Duratuf Kiwi Garden Sheds use a full timber frame construction. The timber framed shed provides strength advantages, greater weather-proofing, high wind resistance, and more versatility. With the Duratuf Kiwi full timber frame in your shed you can easily line the shed, attach shelving, work benches or tool boards to configure the shed to your needs. Due to the wooden frame there are no channels of steel at the bottom of the shed, meaning rain water runs straight off: making a much drier shed. The timber frame has an H4 treated rot resistant base plate and treated framing for the rest of the shed, so it will withstand the elements for years to come. Not to mention the high tensile .40 gauge steel with an 18 year cladding warranty!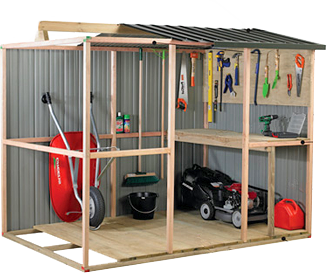 These NZ made Duratuf Kiwi sheds also feature corner flashings, sliding doors as standard, press bent gable roof sheets, guttering and a minimum 1.9m stud height.
The Duratuf Kiwi Kitset Garden Sheds NZ range is fully customisable. It comes in a wide range of sizes, colours and with an extensive list of optional extras to customise the shed to fit your personal garden shed, storage shed or workshop requirements. The Duratuf Kiwi sheds are made to order for each customer so your requirements can be built in from the start. You can specify the sheds door location, extra height, add windows or skylight panels, a raised floor modification to suit a concrete pad and much more.
All Duratuf Garden Sheds are easy to assemble, with pre-cut colour coded timber ends for easy part identification, a factory assembled door and concise, step by step instructions. Of if you are not the DIY type or simply do not have time Gubba Garden Sheds can organise assembly of the shed kitset on site at your place.
Duratuf Kiwi Shed Assembly Instructions